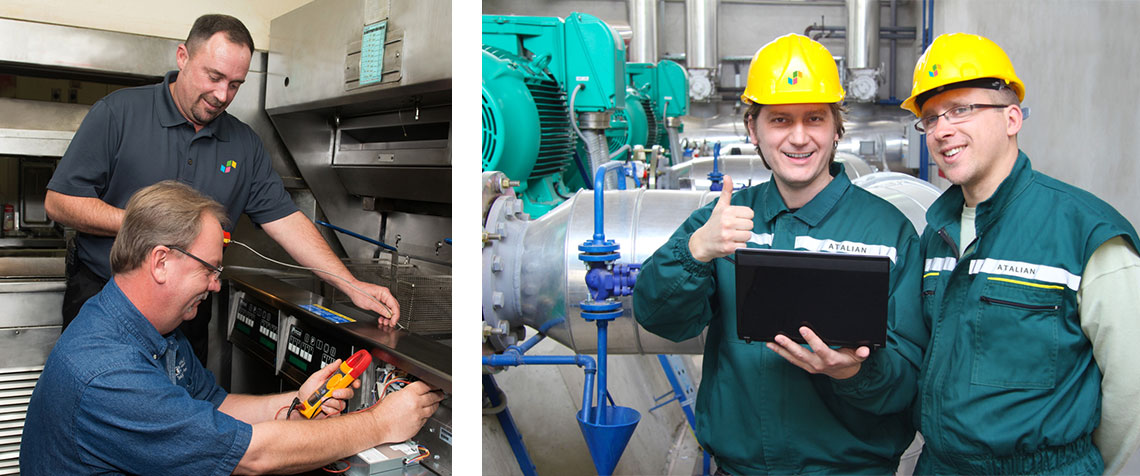 A LARGE RANGE OF TECHNICAL SERVICES
Technical facility management services have to ensure safe, correct, uninterrupted, and orderly operations of all technical and technically related systems, with conserving the value and performance, as well as soundness and integrity of the building infrastructure, systems and equipment.
Atalian Global Services can provide you following services:
handling and operating,

inspection and testing,

servicing,

maintenance,

repair,

obligatory and statutory services,

obligatory and statutory inspection,

system protection,

super-intendance,

remote control,

environmental risk assessing of power supply system, water supply, sewage, electrical installations, HVAC, elevators, diesel generator, pressure regulation system, sanitary facilities, building management system (BMS), illumination systems, security systems (CCTV, anti-burglar system, elevator monitoring system, fire alarm system, etc.), fire protection systems, access control, smoke outlets, lightning protection system, locks and door handles, etc.
FACILITY ENGINEERING
-Handling technical installations
-Managing sub-contracted services
-Budgetary control of expenses on behalf of contractors
TECHNICAL MAINTENANCE
-Climate engineering
-CVC, strong and weak currents
-Management of fluid networks
-Managing security equipment for goods and people
ALL TYPES OF TECHNICAL WORKS
-Air conditioning
-Heating (hot water, high and low pressure, vapour)
-Plumbing
o Networks: gas, vapour, compressed air, water
o Evacuation: steel, copper, PVC
-Ventilation (mechanic and industrial)
OTHER CAPABILITIES
-Answering Public/private partnership call of tenders
o Dealing with complexe dossiers
o Managing long-term contracts (between 20 to 35 years)
-Setting-up contracts with « guaranteed global cost »
o Analysing the state of equipment
o On site energy usage assessment
o Technical, financial and economic auditing
-Specialised teams at the service of clients
o On site start-up and set-up of services (technical auditing)
o Tools and methodologies
o Technical expertise
MULTI-SECTORIAL SCOPE
Airports
Offices
Industry
Public sector
Hospitality
Healthcare/ Ultra-cleaning
Retail